Testimonials
Testimonials from our healthcare customers. For over 25 years, AIMA has served the needs of our customers, helping them to achieve commercial success. With over 500 global customers operating across several business sectors, we are immensely proud of our consistently positive feedback and testimonials. Here at AIMA, we have an individual customer approach. Our dedicated account managers build a collaborative relationship with you to gain a unique understanding of your business, its challenges and most importantly, its opportunities. Your success is ultimately our success, and we love sharing your positive messages.
Read some of our latest customer testimonials
Thoroughly impressed with the quality of the report. It aligns perfectly with what we have been striving for, and I appreciate the effort and attention to detail you put into it. Great job! This report will undoubtedly enable us to move forward with increased accuracy and efficiency. It will be a valuable tool as we work towards winning the claims against the payers. Furthermore, it will assist us in resolving the backlog of idle claims in the system, allowing us to focus our attention on new claims. Let's keep up the excellent work and continue to strive for success.
Diagnostic Laboratory, Ohio
AIMA continually transforms the commercial fortunes of our lab with a tailor-made 360° RCM solution built entirely around our evolving needs. Their team's expert knowledge, care & attention to detail are exceptional, enabling us to secure sustainable growth. We feel reassured for the future, knowing AIMA is in our corner.
Laboratory, Midwest
I appreciate your leadership style of taking ownership, holding accountability, being detailed, and ensuring the weekly cadence with your team.
Laboratory, Indiana
Thanks so much for all your hard work. I'm really happy to have you on my team, and I don't think I ever take the time to say it. When I see an email like the follow up about the collection code, it reminds me how lucky I am to have someone like you on the team keeping up with stuff that I'm too busy/anxious to think about. And I swear sometimes you bring things up on the calls that my million miles a minute brain just overlooks...So thanks for everything.
Laboratory, Michigan
AIMA Team is very responsive! They are a great partner. Their analytics are very useful and help guide us in our business.
Physician Practice
We really appreciate all that you have done so far for our organization.  We can already see the difference between you all and our last billing company.  We are excited to continue growing this.
Genetic testing Laboratory, Louisiana
I simply cannot believe how great your team is. I don't know how you guys built such a customer-centric service organization. As we continue to grow - I may request some consultation on how we can live up to the AIMA standard for customer service. It's very inspiring.
Leading Concierge Doctor, New York
We do not know how we could have survived without all of your help. You have overseen transitioning our billing department to the most successful it has been in our history. We have also moved a significant portion of our back-office work to AIMA to provide us with stability and confidence to grow when most private practices are regressing. We have developed a transcription team to create our notes to spend more time with patients and less inputting data. Plus, we've been innovative in getting Spanish-speaking operators and adding a nurse to the workflow. We are now adding the social media and website to our AIMA portfolio. We keep giving your team ideas, and you all make them happen and look forward to what the future has in store.
Cardiology Clinic, Florida
I am thankful for the large reimbursement payment coming in this morning. I applaud all of you for your hard work and dedication. Please keep up the good work you all are doing.
Clinical Laboratory, Midwest
AIMA is massively helping us to scale up our COVID testing operations, effectively overnight. With their help, we can enter and audit the demographic data from 10,000 requisition forms into our LIS each day. They are extremely flexible to unpredictable demand and have adapted to our processes very quickly. They are our chosen billing partner, so we know what they bring to the table and trust them to get it right. We would highly recommend their data entry services.
COVID-19 Testing Laboratory
We have worked with AIMA for over 2 years and found their service to be outstanding, attentive and incredibly responsive.  We run a busy high-complexity laboratory, specializing in molecular biology, microbiology, genetics and toxicology services in Maryland.  They have been instrumental in helping us grow our revenue.  I would highly recommend them for any size company.
High Complexity Laboratory, Maryland
I would like to first of all thank you for all your hard work in the last 6+ months. I know this has been and uphill battle and honestly we are still fighting up the hill. Things have improved so much from our start in March to now that I can say I do not know of a company or team here in the USA that could touch what you do. The team's skills in medical coding, billing, and credentialing is unparalleled by any organization I have worked with...Again thank you to all the team and honestly this is just the beginning. I will be introducing other companies as well as my own primary care company to your services soon.
Portable Imaging Service, Montana
I would like to commend you on your diligent efforts to raise our multi plan payout rates to 85% over the last few months. You requested the time to get there and you have successfully done so and we wish to express our gratitude to you and your staff for your excellent work on this issue.
Clinical Testing Facility, Florida
I have been working closely with your department for the last several months. It has been an arduous process to implement an entire EMR with billing for our practice. We were only able to achieve this by working diligently with you. It has been a pleasure working with you to make the process come to fruition. We are very pleased with the final results.
Physician Practice
AIMA learned how to utilize our electronic medical record database and continued to develop new ways for us to better serve our patients. They are easily available and worked hard to accommodate our requirements. Not only have we educated AIMA on our processes but they have also taught our team as well. From simple questions to systematic change, the AIMA team were always there to help. We cannot thank them enough for the assistance they have given us throughout our time together
Cancer Care Center, Florida
Now you've read some of our customer testimonials. Is it time for you to transform your commercial operations and reduce overheads with first-class revenue cycle management?
We believe honest customer feedback is a central foundation upon which we evolve, improve and ensure AIMA services meet our customer's needs and expectations. We recently asked all of our customers to participate in a short online survey. The results and comments were affirmative and hugely pleasing to the entire AIMA team. AIMA pledge to use every single statistic and comment to fine-tune our offering. Thank you to everyone who participated, we are incredibly grateful for your time, honesty and continued support.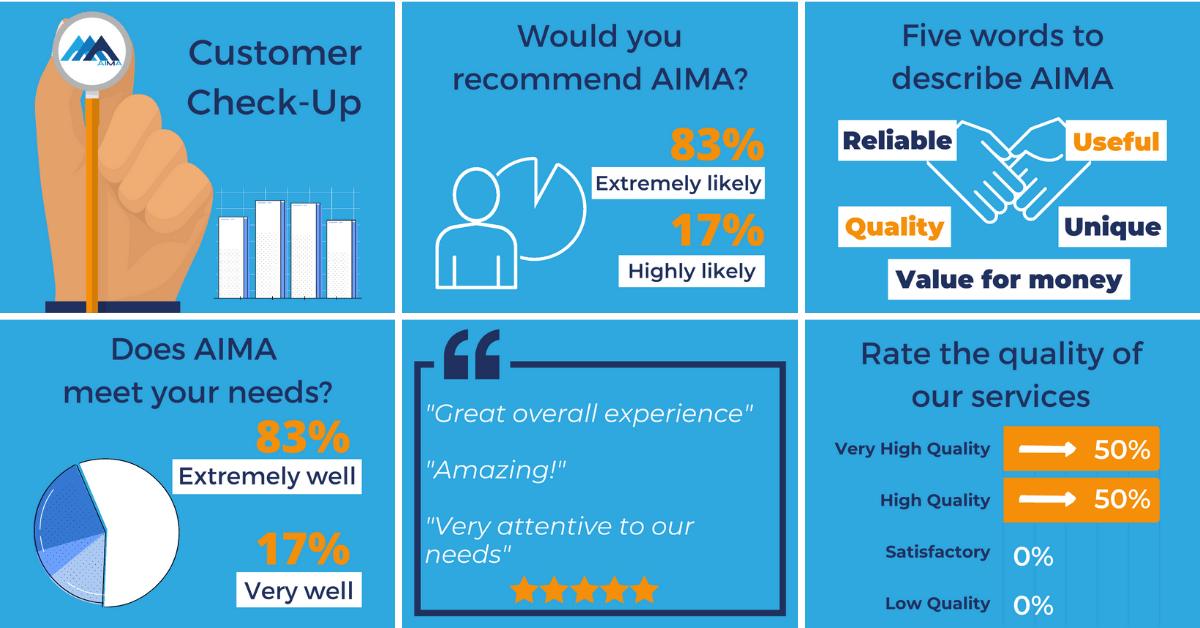 Our testimonials speak volumes about our customer-centric approach.
Achieve a fully optimized healthcare business for a more profitable and efficient future. Primarily, we focus on your sustained business growth so that you can focus on your patients. Our flexible and bespoke Revenue Cycle Management solutions deliver consistent results for solo and group physician practices, surgical centers, laboratories, healthcare groups, urgent and in-patient treatment centers, and large-scale health systems.
Proven Results

Affordable

Customer Focus

360 Degree Service

Flexible Solutions

Crystal Clear Reporting

Secure & Compliant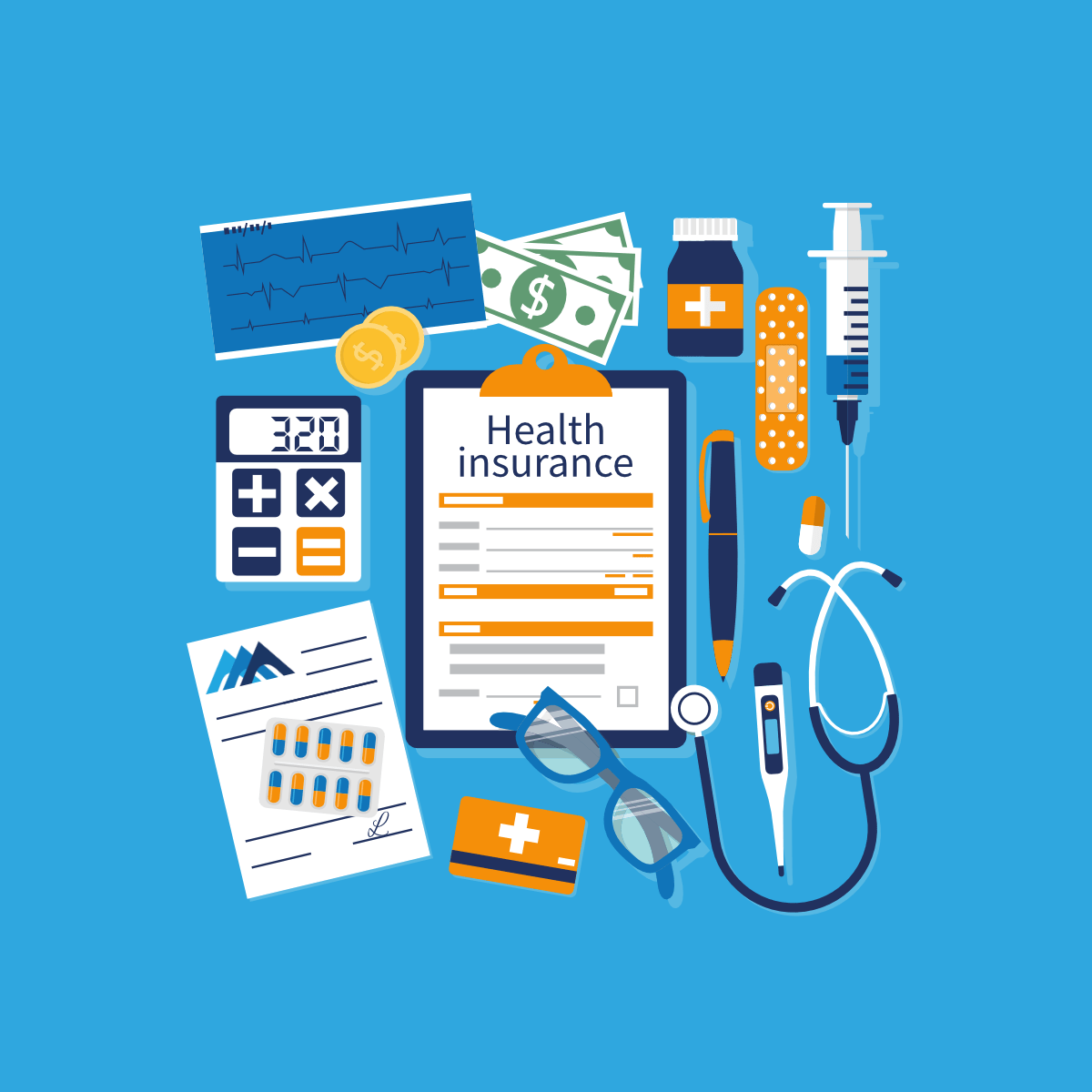 Contact AIMA Business and Medical Support
Call Us Now (321)236-8300 sales@aimabms.com