27
Years of Healthcare Experience

25
% Increase in Customer Revenue

90
% Reduction in Claim Process Time

25
Average AR Days AIMA Customers
AIMA: Thank you for taking the time to learn about us
Since 1995 AIMA has built a reputation based on trust, quality, ethics and reliability.
The AIMA mission is to transform the commercial operations of our customer's healthcare businesses. Our core services are revenue cycle management, healthcare technology solutions, and resourcing and infrastructure services.
We're incredibly proud of our growing customer base that comprises every healthcare specialty, including:
Solo and group physician practices
Surgical centers
Laboratories
Healthcare groups
Urgent and in-patient treatment centers
Large-scale health systems
Above all, we aim to increase our customer's business revenue, reduce overheads, speed up payments and drive through billing and coding blockages. We strive to consistently improve our customer's income by at least 25% and reduce the claims processing time by 90%.
Customer Feedback to the AIMA Team
We believe honest customer feedback is a central foundation upon which we evolve, improve and ensure AIMA services meet our customer's needs and expectations. We recently asked all of our customers to participate in a short online survey. The results and comments were affirmative and hugely pleasing to the entire AIMA team. AIMA pledge to use every single statistic and comment to fine-tune our offering. Thank you to everyone who participated, we are incredibly grateful for your time, honesty and continued support.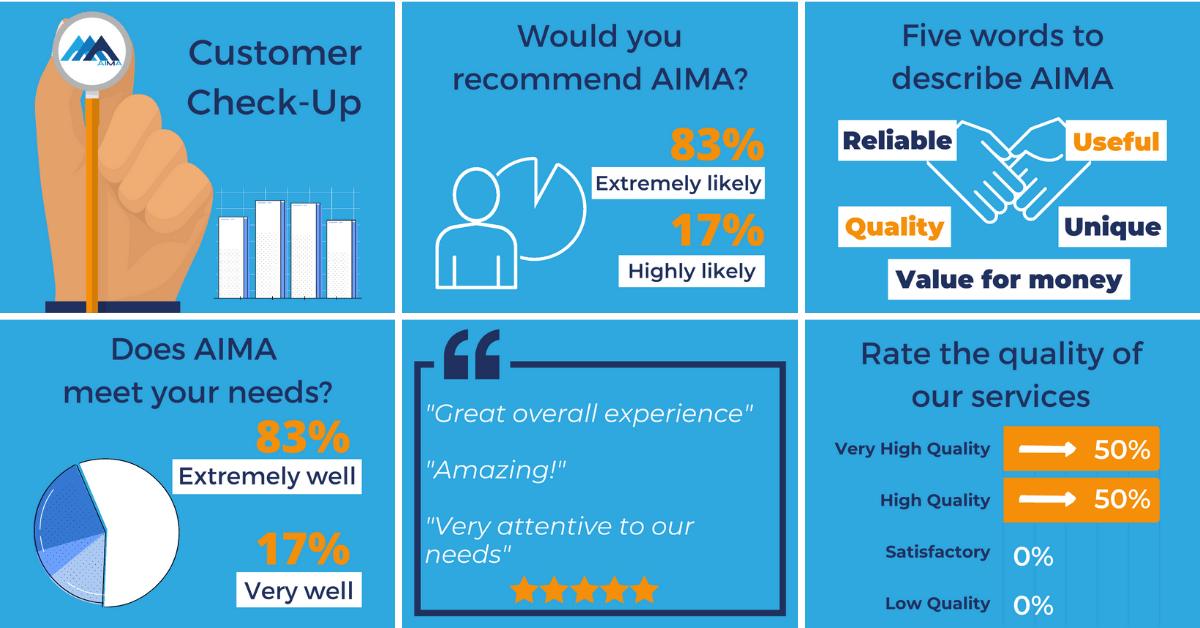 Our Values

Proven Results
AIMA customers achieve an average 25% increase in revenue. With 90% witnessing this within their first three months with us. Combine this with a regular 40% cost saving on financial overheads, and it is clear why our customer base is organically growing.

360 Degree Service
We are a team of highly experienced revenue cycle managers and healthcare IT solution experts. AIMA help private physicians, group practices and laboratories with custom-built solutions to manage part or all of their revenue cycle management.

Secure
AIMA is accredited with the HIPAA Seal of Compliance. We guarantee maximum control over patient claims data. As you would expect, all communication is via advanced compliant encrypted IT platforms.

Affordable
We only bill our clients for what we collect, so from day one, we are invested in ensuring your business is fully optimized for sustainable healthy growth.

Flexible
Our teams are trained and certified on multiple practice management platforms including; Medgen, Kareo, GE centricity, Iridium Suite, PracticeFusion, IDX, Allscripts, eClinicalWorks, Criterions, Labgen LIS and more. AIMA offers a wealth of experience and practical knowledge to our customers with unbiased advice focussed on the best interests of your business.

Automation
Our automated capabilities allow us to handle large claim volumes, ensuring a marked reduction in processing time and leading to faster claims processing cycle and workforce efficiency.

Customer Focus
Here at AIMA, we have an individual customer approach. Your dedicated account manager will build a collaborative relationship with you to gain a unique understanding of your business, its challenges and most importantly, its opportunities. We offer a complimentary 24-hour back-up service of skilled, customer-focused teams.

Crystal Clear
Our dedicated AIMA account managers design bespoke, meaningful reports and dashboards optimized for your healthcare business.

Trusted
With over 500 global customers operating across several business sectors, we are immensely proud of our consistently positive feedback and testimonials. Read our testimonials.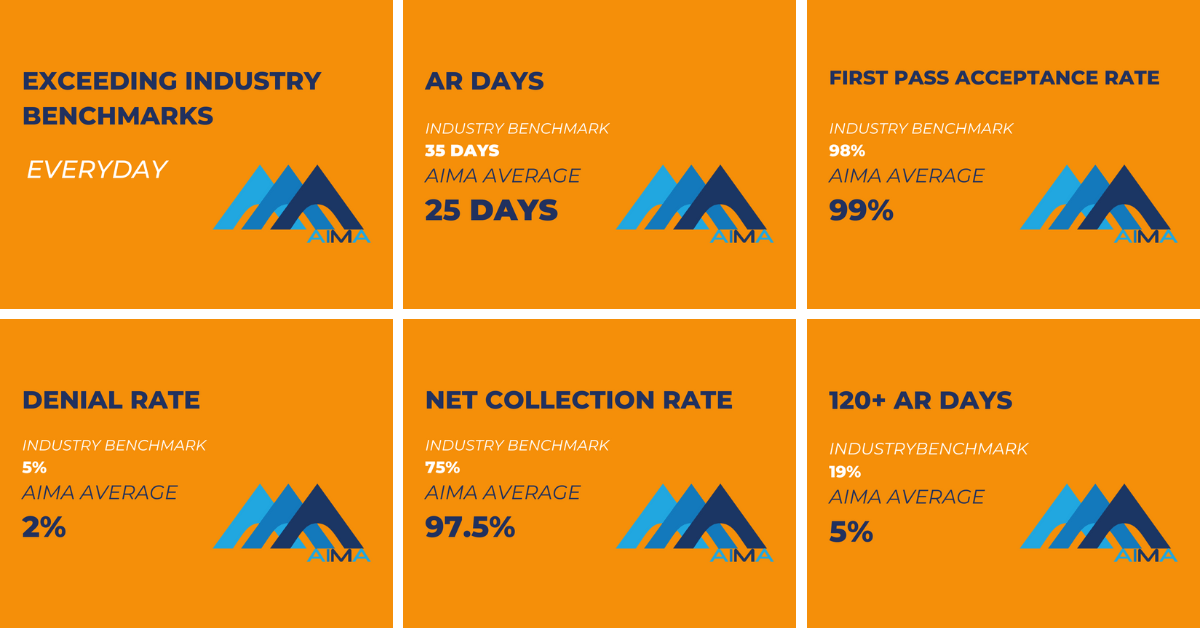 Contact AIMA Business and Medical Support
Call Us Now (321)236-8300 sales@aimabms.com